The 2019 VOWS Awards
Weddings
We attended The 2019 VOWS Awards!
Last November a few members of our Hetland team attended The VOWS Awards at Doubletree by Hilton in Glasgow. Alongside RAD Hotel Group owners Robert and Vivien Kyle.
Excitement was in the air as, prior to the event, Hetland Hall had been announced as a finalist for 'Wedding Venue of the Year' for Edinburgh, Lothian and the borders. While our sister hotels Lochside Hotel, Lodges and Spa and The Radstone were finalists for Glasgow, Stirling and the West.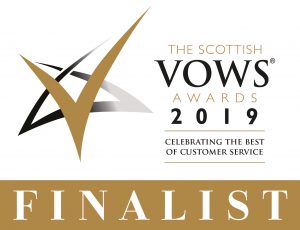 To attend the event as a finalist was an honour. A hugely positive affirmation for the whole team at Hetland Hall and what we aim to achieve for each couple who chooses to celebrate with us.
Although we did not win in our category this year we were overjoyed to celebrated alongside our team when Lochside was announced as the winner of 'Wedding Venue of the Year' Glasgow, Stirling and the West.
The VOWS is such a prestigious awards ceremony, it was impossible for our team not to leave feeling optimistic and inspired. And we look forward to taking that drive with us into the New Year.